Bottleneck John
Mostly old-timey 1920's and 30's unpolished, raw Delta, Hokum & Country blues stuff.. What better way to get your audience in the mood than with a set of laid back stuff from the Delta? I play my resonator guitars, my beloved tin-cans, in open tunings and have one foot pounding out the rhythm on the floorboards...
Performing solo but also in duo's and in full acoustic(and electric) bands, playing blues festivals, clubs, concert halls, private concerts, churches, coffee houses, schools & pubs.
Classic tunes from Charley Patton, Bo Carter, Robert Johnson, Son House, Blind Willie Johnson & Muddy Waters, etc.. As well as my own songs in the genre. From time to time some friends join in on Harmonica, Double Bass, Piano, Mandolin, Fiddle, Drums etc. A full acoustic Delta Blues Band!!
Solo-Duo-Trio-Band
*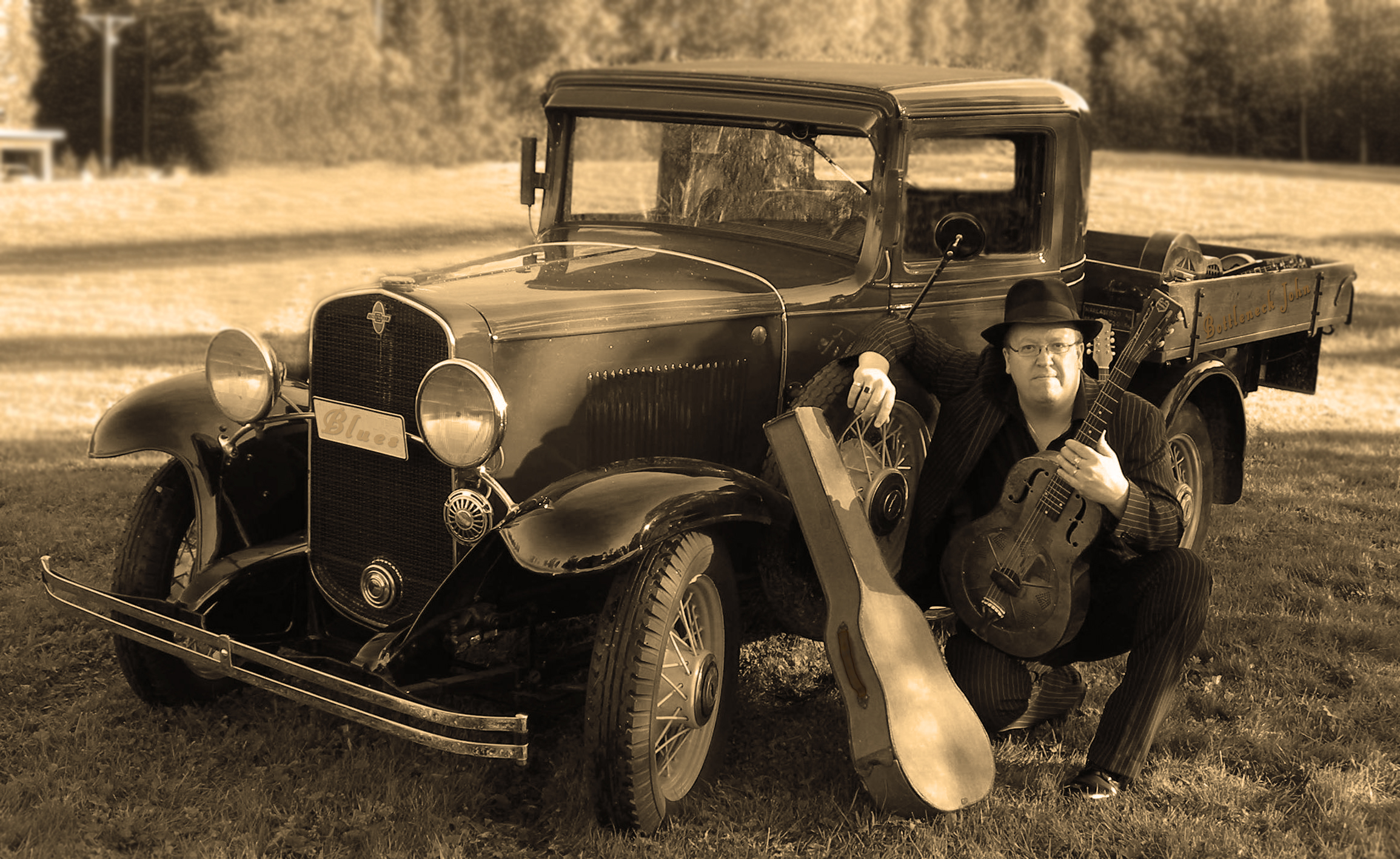 1931 Chevrolet - a true bluesmobile..

Bottleneck John bjuder på akustisk ol'timey blues, hokum & spirituals med rötterna
djupt, djupt nere i 1920/30-talets Mississippidelta. Ibland intensiv, rå och tempofylld men även tillbakalutad och känslosam! En konsert som bjuder på deltablues, hokum & spirituals med rötterna djupt nere i 1920/30-talets Mississippidelta.
Musik som är intensiv, rå och tempofylld men även tillbakalutad och känslosam!
En musikalisk tidsresa med låtar av legendarer som Robert Johnson, Leadbelly, Son House, Charley Patton och Blind Willie Johnson men även eget material i denna traditionsfyllda genre. Helt enkelt blues som det lät förr, en röst och akustiska instrument, en fot som stampar takten på golvet ersätter trummorna.
De senaste 3 decennierna har Johan turnérat flitigt i Skandinavien och Europa med över 1500 konserter solo eller med band. Från Norska Lofoten i norr till Tropea i södra Italien men även i USA och bluesens hemtrakter kring Mississippi med spelningar på klubbar och festivaler där, bl.a. legendariska King Biscuit Blues Festival i Helena, Arkansas!
BJ's blues har fått fin kritik i media världen runt, några citat här:
"..It doesn't matter what corner of the planet the artist comes from, you either have a blues soul or you don't. This man has one in spades!.." - Greg Szalony, Blues Blast Magazine, USA.
"..En av de bästa svenska bluesskivor jag hört.." - Lennart Götesson, Dalademokraten.
"..No doubt, one of the finest Acoustic Blues artists around.." - John Vermilyea, Blues Underground Network, Canada.
"..The Van Gogh of European bluesmen.." - Roy Bainton, Blues Matters Magazine, UK.
"..Has to be some of the finest that Swedish blues can present when it comes to soulful and beautiful vocals.." - Freddy Toressen, Blues News, Norway.
"..The spirit of blind Willie Johnson and Son House must surely be watching over Johan.." - Brian Harman, Blues Art Journal.

BJ uppträder solo men också i duo/trioformatet. Bottleneck John finner sig tillrätta på alla sorters scéner, från gatan via klubb & festivalscénen till kyrkor, kaféer, skolor och pubar!!
*